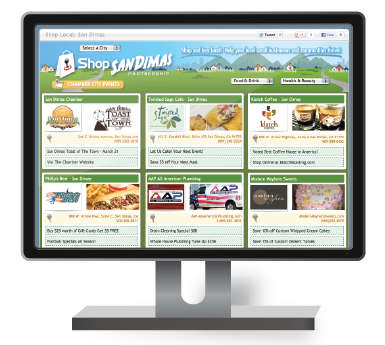 The Shop Local Partnership


Helps local independently owned businesses
Bring in new customers
Consumers Save Money
Encourages consumers to shop in the their local commmunities
Helping local communities thrive!
We have helped businesses in the Inland Empire and it's surrounding cities for the last 5 years with our Loyalty program, Local Loyalty Rewards.
This program will give your business:
Exposure to our entire database of over 128, 000 permission based subscribers (and grows weekly) in our Weekly Update that is sent every Thursday via email.
The Weekly Update features valuable cross marketing of local events, new merchants, printable coupons, contests, our local businesses, and more.
A personalized block which will include your logo, photo, and up to 2 lines of text or offers that will link directly to your website.
Drives more traffic to your website
Brings in more customers
Your Business featured in the Local Loyalty Rewards Weekly Update every Thursday.
Hosted on our local website, LocalLoyaltyRewards.com, 24/7!
Change your offer or text once per month, allowing you 2 different items to feature each month.
Every email we send for our businesses will have banners and links to promote the Shop San Dimas Partnership every day of the week!
We do it all for you too!
The Shop Local Partnership will be featured weekly and promote visitors to view newest merchants every week, thus providing you with constant, repetitious exposure.